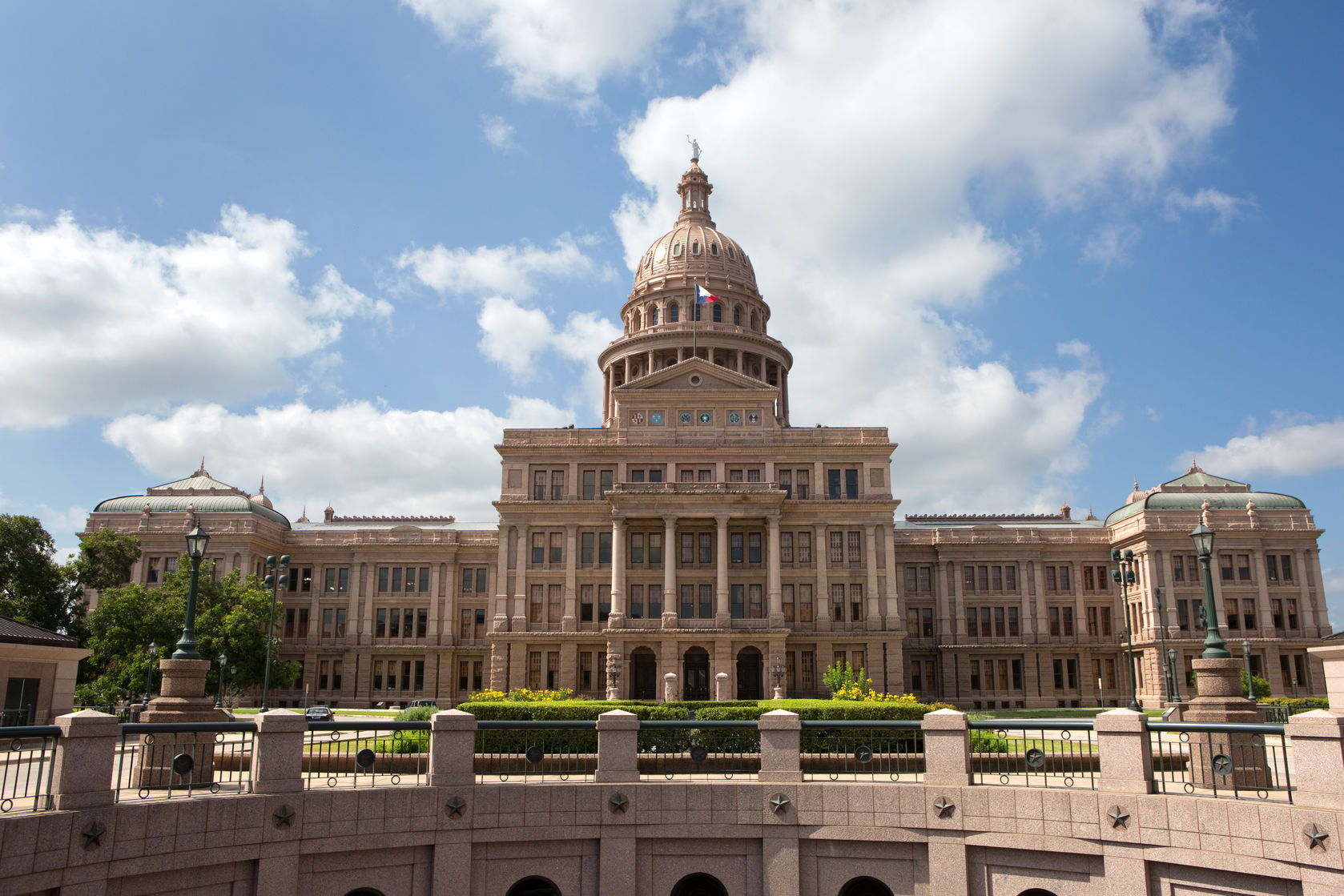 "It's not hard to find independent insurance agents going above and beyond for their customers and their communities. We've spotlighted a few agents before for their community involvement, but this time we want to zero in on the Lone Star State, which is Superior Access' home. Every single agent on the list below has been noted for their success in their field. Some have been honored by the Independent Insurance Agents of Texas. Others are recipients of the Young Agent of the Year Award. And still others have been widely noted for their creativity and innovation. Beyond that, each of these 18 agents is known for their generosity, whether they're going the distance for their customers, mentoring up-and-comers, or giving back to their communities. Let's celebrate some of Texas' best independent insurance agents.  
Victoria Weir, Executive Director of Independent Insurance Agents of Tarrant County
Victoria Weir is a champion role model for young insurance agents in Texas, a leader among women in the business world, and a vocal promoter of #InsuranceGivesBack. For her, giving back goes beyond the hashtag: Weir has shared her well-honed expertise in HIPAA, data security and healthcare issues by teaching risk management courses for state-approved administrator training. Her actions have made Texans safer outside the workplace and within.  
Tammy Land, Independent Insurance Agents of Dallas
In 2016, Tammy Land won the Dach Award, an honor given by the InVEST program to honor an agent "who has made tremendous contributions in fostering the growth and development of InVEST." InVEST is an educational outreach program that helps high school students see the potential of a career in insurance. Since then, Land has been at work cultivating the Local Association of Independent agents in Dallas into a nationally recognized standout in the industry. By all accounts, she leads first by doing great agency work.  
Tasha Yancey, Independent Agent with Bell Insurance Group
Tasha Yancey is the youngest person on this list, and she's one to watch in the Dallas insurance market. Yancey takes a creative approach to agency; she uses skills she honed as an underwriter to help customers truly clarify their needs and understand their options before making a pitch. In her free time, she sponsors BvB Dallas, a powder-puff football club ready to tackle Alzheimer's.  
Ryan Nickles, Partner at Reliable Insurance Managers Inc.
Ryan Nickles has been part of the leadership at Reliable Insurance Managers for almost two decades, and through earning the small firm a reputation for service that goes above and beyond he's earned himself a place on this list. Outside of work, Nickles' compassionate advocacy for medical marijuana shows that he's not afraid to take risks in order to do what he thinks is right.  
Joseph Abraham, Level3 Insurance
Joseph Abraham is the sole owner of Level3 Insurance. He's honest, is responsible and takes integrity seriously. Since 2012, Abraham has been a member of the National Ethics Association. Though his agency is new on the scene, he's already built a reputation as a trustworthy figure in Houston.  
Daniel Carmody, Principal Owner of Independent Insurance Center, Inc.
Daniel Carmody made his name by specializing in insurance categories that are often overlooked, including construction, wholesale and transportation. For his foresight and near quarter decade in the business, we commend Daniel as an outstanding independent agent in Texas.  
David Kay, Independent Insurance Center, Inc.
David Kay used to work at NASA, resolving phenomenally complex problems in the world of astrophysics and engineering. Now, he turns that expertise and capability to his customers; he stands out from the pack by having profound understanding of his customers' needs, then being able to match their needs to a wide variety of vetted insurance options.      
Gary Whitaker, VP at Whitaker Insurance
Gary Whitaker won the Ben R. Binford award for outstanding service in 2016. The award is given by the Independent Insurance Agents of San Antonio, and they definitely picked the right guy. Not only does he excel at his work, but he's a leader in the community. Whitaker led the IIASA Big I Golf Tournament last year, and he ignited a project to restore a vintage fire truck and donate it to the San Antonio fire department.  
Victoria Dearing, Vice President/Professional Liability Broker at Breckenridge Insurance Group
Victoria Dearing has an admirable determination to give the best service in any context, and her reputation for knowledge of the liability market makes her a go-to in the field. But her heart isn't just for her customers: As a volunteer for Samaritan's Purse, she aided relief efforts after a tragic fertilizer plant explosion.  
James Russell, NewFirst Insurors/Texas Associates Insurors
James Russell was the 2014 winner of the André Juneau ELITExas Young Agent of the Year Award. Since then, he's continued to rise. He's highly motivated to do what's best for his customers, and for the past four years he's acted as a mentor to junior advisors at Texas Associates, paying his knowledge forward.    
William Page, Managing Director Wortham Insurance & Risk Management
Even though he ranks highly in his field, William Page continues to accumulate knowledge in a wide variety of risk management categories so he may better meet his customers' needs. Page's commitment to learning also extends outside of work; he's a respected board member for RBI Austin, which encourages the development and education of inner-city youth.  
Patrick Watkins, President of Watkins Insurance Group
Patrick Watkins was lauded by the Rough Notes Company as "the driving force behind his agency's exponential growth." In 2014, he received the Distinguished Service Award from the Independent Insurance Agents of Austin (IIAA) for bettering the insurance industry as a whole by educating on best practices.  
Matt Frierson, Combined Agents of America
Matt Frierson constantly surprises. He's been both the 2011 winner of the André Juneau ELITExas Young Agent of the Year for his creativity and fire, and 2014 Mayor of Paris, Texas. He's also president of United Way of Lamar County, where he champions public health and education with the full passion he brings to his work as an agent.  
Mark Lee, Managing Director at Higginbotham & Associates Insurance Agency
Mark Lee's independent agency, Higginbotham & Associates, is ranked in Austin Business Journal's Top 5 Independent Brokerage Firms of 2016. Lee's determination to make sure his customers' businesses stay safe and succeed in the long term makes him stand out. Maybe that's why he's been featured in Insurance Business America's Top 100 Producers in the nation for the past three years in a row.  
Rowdy Nutt, Managing Member/Owner at Legacy Insurors' Group
Rowdy Nutt launched Legacy Insurors' Group in 2015, and in a short amount of time it's already made a mark on the industry. It's an innovative startup, and we look forward to seeing what happens next.  
Don Morriss, President of Offenhauser & Co.
In 2008, the IIAT honored Don Morriss with the Drex Foreman Award for a lifetime of excellence as an independent agent at Texarkana. It's obvious how important community is to him. Morriss is a leader in the Texarkana Regional Arts & Humanities Council and other non-profits.  
Bill Henry, CEO of MHBT
Bill Henry spent four years on the Board of Directors for the Independent Insurance Agents of Dallas because improving the world of independent insurance was his truest passion. His lifetime of achievements would make a list the length of a phone-book — we will just say that when he won the Drex Forman award in 2013, he definitely deserved it.    
Andy Webb, Partner at Watkins Insurance Group
Working with business leaders who put the community first is a sheer joy for Andy Webb. He specializes in business risks at one of the highest-rated agencies in Texas, and he brings that spirit with him when he's off the clock. He serves on the board multiple non-profits, so he's doing great work all around. These leaders, industry veterans and agents willing to go the extra mile for their customers ultimately reflect the values of the communities they serve. To native Texans, it's no surprise that the values reflected back here include generosity, compassion and hard work. Those are things that make our state so special — and why Texas is home to some of the nation's very best independent agents.   Images by: sframe/©123RF Stock Photo, f11photo/©123RF Stock Photo, dfikar/©123RF Stock Photo "