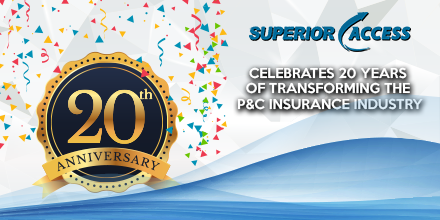 "Austin, TX (October 4, 2016) – This month marks the 20th anniversary of Superior Access, the nation's leading online insurance Market Access Provider. The company is an innovator in harnessing the power of the internet to offer rating technology to provide independent agents access to competitive online products from over 50 carriers. Superior Access has rapidly evolved into the leading online insurance distributor, providing instant access to a multitude of insurance products, and giving independent agents the ability to efficiently quote, bind and issue policies across the country. Online products include, but are not limited to auto, homeowners, condo, renters, motorcycle, dwelling fire, general liability, BOP, commercial auto, and worker's compensation. "When I started, our turn-around times were measured in days. Today, Superior Access is quoting, binding, and issuing insurance policies in minutes," said Keith Curry, senior vice president, Superior Access. "Superior Access started as one of the first online commercial comparative raters. Since then, we've led industry transformation and, now, offer a holistic service that delivers independent agents a universal market network of products to meet more of their customers' needs, more of the time. It's no longer about providing just quotes. We are helping agents serve their customers with specific products to meet their insurance needs. In turn, we help our agents build their business." Superior Access is breaking new norms every day in order to deliver process improvement through technology. There are few providers in the space that offer the speed of transaction, accuracy of transaction, and depth of products that Superior Access does. In celebration of its 20th anniversary, Superior Access opened its vault to offer insights gleaned from two decades of revolutionizing the way independent agents do business. In this time, the industry has changed in five major ways:
Evolved from comparative rating to selling insurance through digital channels
Integrated traditional and digital channels
Established a vast market network of P&C insurance products
Became customer-centric as opposed to delivering product-focused services
Automated administrative tasks, freeing independent agents to focus on selling and customer service
While Superior Access has a storied history in transforming the insurance industry, long-time industry veteran Curry is most looking forward to the future of the insurance industry. "I have never been more excited to be in the industry than I am today. The speed of technology change is transforming our industry, and we provide the tools to ensure independent agents are successful," said Curry. "I can't wait to see what the next 18 months brings to the insurance industry." About Superior Access Superior Access is the largest insurance Market Access Provider enabling fast access to a variety of insurance products at competitive rates. Through leading-edge online tools and a vast market network of products, Superior Access helps insurance agents effectively find, quote and bind business faster and more successfully than ever before. With a full service team of underwriters and seasoned, licensed professionals at the ready, Superior Access is dedicated to expanding opportunities and improving business results for independent agents. For more information, please visit superioraccess.com. Contact: Michelle Lyng Novitas Communications [email protected] 202-380-7114"