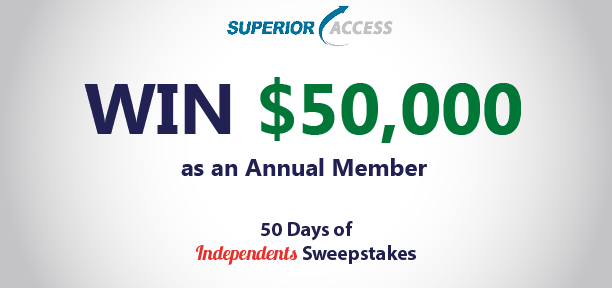 "One agent will win $50,000. Get entered today and every day until July 26th! As you know, independent agents are the lifeblood of the insurance industry and more importantly, they protect households and small businesses from sea to shining sea. Without the Independent Agent, people's lives and livelihood could not get back on track or stay in place. We want to thank Agents for what they do for the industry and for the people and communities of the USA.  Superior Access wants to reward subscribing Independent Agents in a superior way. We want our Independent Agent annual members to insure many households and businesses and show the country the power of the Independent Agent.  If you participate in our campaign to insure America, we will enter you in the drawing of $50,000 in cash to be announced in August. Agents have several ways to enter:
First, become an annual subscriber to Superior Access; only annual subscribers are eligible. This is the ticket into the game (1 Entry)
Second, they can write up to two (2) policies a day as an annual subscriber and get another entry for both (1 Bonus Entry per policy).
Superior Access offers you over 50 carriers and 120 lines of business in Auto, Home, and Small Commercial markets. No other wholesale insurance company gives you more coverage options in more states. Come on and join us – see what makes Superior Access the ultimate online market network for the Independent Agent. Grow your book of business and have a chance to win $50,000! Visit www.superioraccess.com/sweepstakes to get more information on 50 Days of Independents and Superior Access."